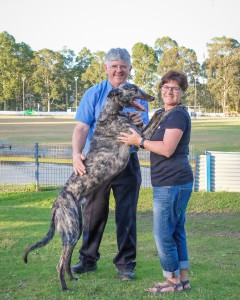 Shoalhaven Greyhound Club is proactive in the welfare of our beautiful breed being one of the first clubs in NSW to self-appoint an honorary animal welfare office to our committee.
Natalie Winter is a respected dog trainer with over 30 years experience as well as being a volunteer photographer who has worked with Animal Welfare League, RSPCA, Paws for Thought as well as a number of other rescues.  She has assisted in helping rehome over 2000 animals in that time. She is also a member of the international "HeARTspeak" organisation of Artists donating their time to helping animals.
We welcome Natalie to our committee and if you have any issues relating to any animal on our track at Shoalhaven racing we invite you to contact her with your concerns.  Your information can remain anonymous.
Unfortunately, we are unable to assist with concerns within the racing industry and urge you to contact Greyhound Racing NSW direct with anything to do with this.