Shoalhaven greyhound racing is dedicated to the welfare of our dogs and we will be listing dogs available for adoption as they come available.  By adopting locally you will have access to the owner for ongoing advice, help if ever needed plus access to a large network of people that are there for you no matter what.
Got a question?  Then come down to the markets held at the track every 4th Sunday of the month and talk to our volunteers and meet some of the dogs looking for forever homes.  All dogs are placed at no cost and are desexed, vaccinated, micro chipped and vet checked to the right homes.  Homes will be subject to a yard inspection and through an application process. For dogs out of the Shoalhaven, please look at NSW Greyhounds as pets.
Current dogs for adoption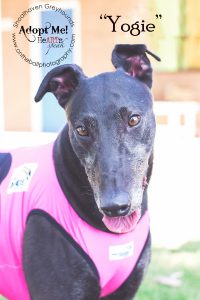 "Yogi".  He is a 5 year old black male and is not your average bear.  In fact he is HUGE!.  He is tall, strong and very muscular making him not suitable for families with small children as he likes a hug or 2 and may knock them over.
He is a happy go lucky boy that would make the perfect pet for someone who has had large dogs before.  He is fine with other dogs but we recommend a meet and greet if your looking to add him to your family.  Yogi can be seen at the next market day or we can arrange a meet up at the track one day.  He definitely will leave an impression on you.  He comes free and is desexed, micro chipped and vaccinated to the right home.   Contact  Glenn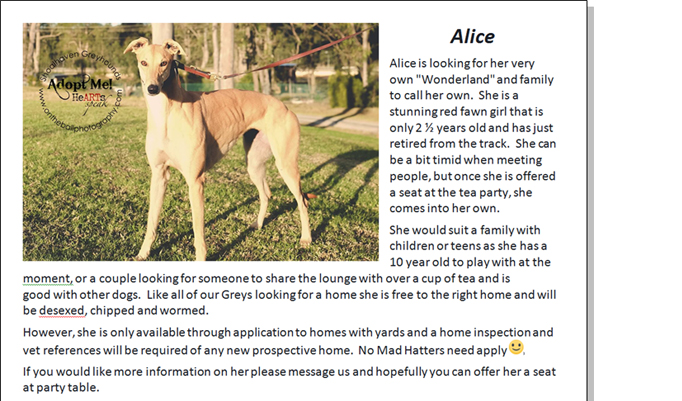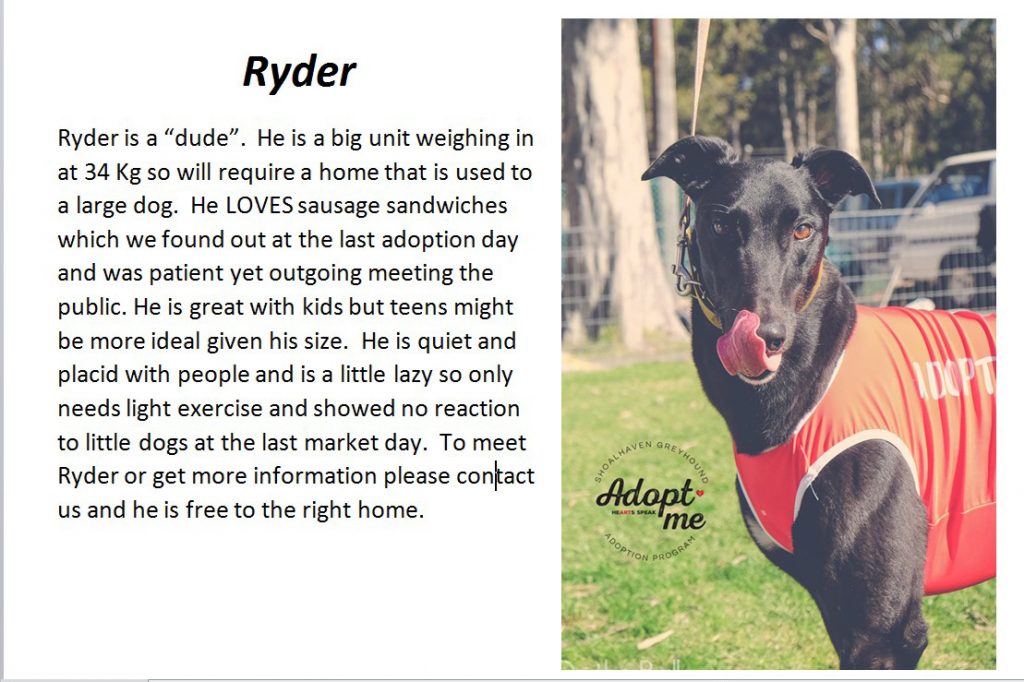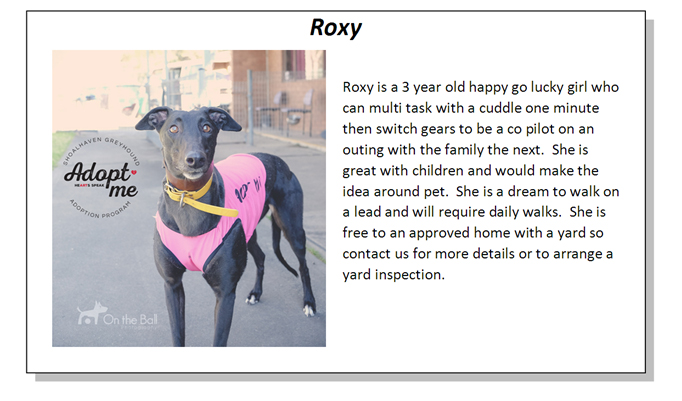 Other dogs for adoption
We have so many dogs for adoption its not funny.  We have every colour, sex, size, personality that you could ever want so if you dont see what you want here, then please contact us with your requirements and we will do everything we can to match the right dog with you.  Contact  Glenn for more information
Cant adopt but can foster?
Well we need you!  If you are able to foster a grey to help them find their forever home we would love to hear from you.  Fosters are important to our program as they expose the dogs to every day living like the lounge ( your bed……) and simple things like the vacum or washing machine.  If you can help or would like more information please contact us.  We really could use your help.